WHAT THE FUCK IS HAPPENING!? WHAT DID YOU JUST DO!?

Warning!! Spoilers ahead!!

This page contains major plot spoilers! If you have not seen up to
Episode 6 of Tiny Heist, proceed at your own risk.
"If I need a compliment, I'll look in the mirror, okay?" ― Agnes, to Aglet
Agnes is a fairy who often frequents Shoeby's Casino. She is played by Jessica Ross.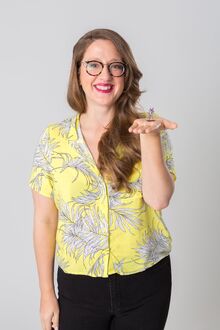 Description
[
]
"Yes, Agnes is a sassy older fairy, who loves hangin' out at the casino. She's a bit no-nonsense herself. You can usually find her at a slot machine, smoking a cigarette, but today she's at the high roller's table. [...] She has found one giant cigarette that she keeps in her hotel room, and then she snips it off and creates her own little mini ones, and she's perpetually smoking." ― Jessica Ross
History
[
]
Agnes is first introduced as a card game at Ruthie the Shell's private card house enters its tenth hour. Among the players are Aglet, Storm Drain Sonny, Rick Diggins, and Agnes.
Relationships
[
]
Quotes
[
]
(Aglet: My, my, my, Ms. Agnes, you look about as pretty as a summer evenin'.) Why don't you keep your eyes on your own card, alright? Yeah?
References
[
]
↑

Although it is a popular belief that Agnes is a College of Glamour Bard, there is no textual basis for this as she does not use any of her subclass's features.