The Applebees Residence is the home of Mac and Donna Applebees and their children Bucky, Bricker and Cork Applebees. It is the former home of Kristen Applebees.
Featured Episodes
[
]
Description
[
]
It is a one-story ranch house located in the very conservative Helioc neighborhood of Elm Valley. Kristen's room is decorated with posters dedicated to Helio.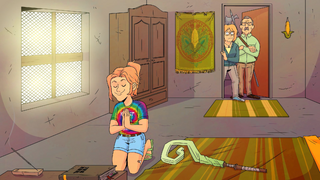 The house is attacked by The Harvestmen in the episode Family in Flames.