Are you my Dad? Am I my own dad!?

This article is incomplete! You can give someone advantage on their next Investigation check by helping us expand it! This article still needs:

"Mortal! Answer this riddle! What city are we in?" ― Bazathrax to Cody Walsh
Bazathrax is a minor underlord of reckless decisions. He was summoned by Cody Walsh into the waking world and now owns Cody's soul.
Featured Episodes
[
]
Description
[
]
Bazathrax is a four and a half foot tall devil. He has the head of a marmot about the size of a human head with curling ram's horns on an extremely weak, hairless humanoid torso. He has long clawed hands. In a centaur-like fashion, his waist meets the four-legged body of a capybara, which has a long rat tail. A pair of vestigial wings sprout from his back.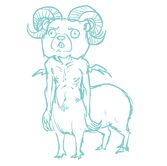 History
[
]
Bazathrax was summoned by a book that Cody Walsh found in the Hot Topic he used to manage. Cody spoke some Latin incantations that he found in the book and summoned Bazathrax. He helped him through the Highway Hex set up by Robert Moses to enter New York City in the mortal realm. Mistaking him for Lucifer, Cody eagerly offered up his soul in exchange for powers to help him save the Queens Center Mall, which was scheduled to be demolished, along with his Hot Topic, in order to build an enormous Gladiator corporate campus.
When Pete Conlan discovered that Cody had recently been inducted into the Unsleeping City, something he had not previously been when the two had first met, he confronted him about it, which concluded in Cody to summoning Bazathrax after giving Pete the contract he signed to look over. In a stroke of quick thinking, Pete pushed Bazathrax into Cody's chest in the form of a "sick tattoo" that said "Redemption", referencing Cody's paladin subclass.