Seasons of Dimension 20 alternate between a "permanent" cast of 6 players, called the Intrepid Heroes after their episode intros, and a changing cast of either 6 or 4 guest players. For its two live shows, part of the cast starred alongside guest players. There have been 6 seasons with the Intrepid Heroes and 7 side quests for a total of 13 seasons. The 6th Intrepid Heroes season, A Starstruck Odyssey, premiered January 12th.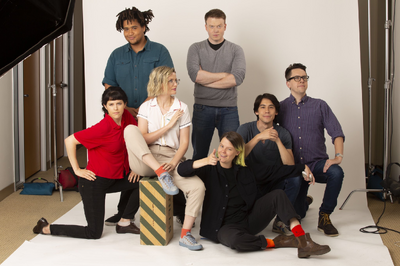 Intrepid Heroes
Although not an official "main quest", this cast also starred in: The Unsleeping City, Dimension 20 LIVE, and A Crown of Candy.
For a list of other games this cast has starred in, see List of Non-Dimension 20 RPG Games Featuring the Main Cast.
Guest Casts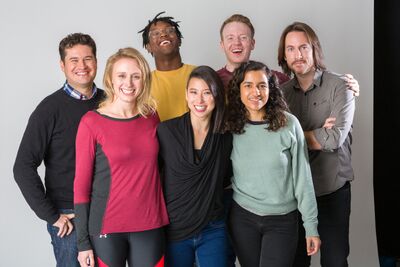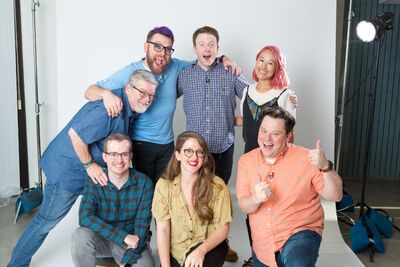 Live Show Cast
Cast Trivia
Brennan Lee Mulligan has appeared in all but two seasons of Dimension 20 when he was not DM or a player character for Shriek Week or Coffin Run.
Both Brennan Lee Mulligan and Aabria Iyengar have appeared as both Dungeon Master and player character, while Shriek Week's Gabe Hicks and Coffin Run's Jasmine Bhullar have so far only been the DM (or storyteller).
After Brennan, Ally Beardsley has appeared in the most seasons, a total of eight. Lou Wilson and Zac Oyama have appeared in seven seasons of Dimension 20.
Ally Bearsley, Lou Wilson and Zac Oyama have been the only Intrepid Heroes cast to appear on a non-main quest season.
Shioban Thompson, Emily Axford and Brian Murphy have only appeared in the six Intrepid Heroes seasons.
Only Erika Ishii has appeared in just 4 seasons of Dimension 20.
Two cast members have starred in three seasons of Dimension 20: Aabria Iyengar and Rehka Shankar. Aabria has appeared both as a player and DM, while Rehka has only appeared as a player character.
Five cast members have appeared in two seasons of Dimension 20: Ify Nwadiwe, Matthew Mercer, Lily Du, Carlos Luna and Isabella Roland
Nineteen cast members have only appeared in one season of Dimension 20: Amy Vorpahl, Mike Trapp, Travis McElroy, Griffin McElroy, Justin McElroy, Clint McElroy, Jessica Ross, Krystina Arielle, Marisha Ray, B. Dave Walters, Sam Reich, Katie Marovich, Raphael Chestag, Grant O'Brien, Persephone Valentine, Becca Scott, Dani Fernandez, Gabe Hicks (as DM) and Jasmine Bhullar (as DM).

Griffin McElroy also appeared in the Fantasy High Live at RTX event, alongside some of the Intrepid Heroes.
Additonally, Brian David Gilbert joined the Intrepid Heroes for the Fantasy High Live In Brooklyn show.
Crew
Director
Creative Director
Editors
Noah Diamond
Erin Hassidim
Amielee Easton
Johnathan Blanton
Tyler Schuelke
Jared Nunn
M Swing
Rick Perry and crew [extra]