Are you my Dad? Am I my own dad!?

This article is incomplete! You can give someone advantage on their next Investigation check by helping us expand it! This article still needs:

The greatest magic of all... chronomancy!

WARNING!! This Fantasy High NPC has grown up and had adventures past the initial Fantasy High and Dimension 20 LIVE episodes. This page contains major plot spoilers for the The Seven campaign, so proceed at your own risk.
"I like being a pretty princess." ― Danielle Barkstock to her friends
Danielle Barkstock is a student at the Aguefort Adventuring Academy and a member of the Maidens adventuring party.
During Fantasy High and Dimension 20 LIVE, she is an NPC played by Brennan Lee Mulligan. During The Seven, she is a PC played by Erika Ishii.
Featured Episodes
[
]
Description
[
]
Danielle is a half-elf. In Fantasy High and Dimension 20 LIVE, she has long, sandy brown/dark blonde hair with vines and flowers through it. She is tall and broad-shouldered and has a young grey fox as an animal companion. As of The Seven, she is Asian, with long black hair, and constantly covered in a 'Pigpen'-esque cloud of spores and ferns.
History
[
]
Danielle grew up in a sustainable Polyhedral Yurt nature commune fully off the grid with her moms, under the boughs of an Awakened Tree named Holly.[1] Before she was put into the palimpsest, Yelle went through multiple adventuring parties, but kept getting kicked out due to her radical beliefs and actions.
She was part of the group of maidens that were taken to Kalvaxus's lair and saved by Sandra Lynn Faeth. They also aided with the second killing of Kalvaxus when Arthur Aguefort resurrected him so that the maidens could gain closure.
They went on to form an adventuring party with the rest of the Maidens. When spring break started, she had to deal with teen drama related to a love triangle between herself, Skrank Douglas, and Ostentatia Wallace, another member of her party.
At the start of The Seven, they are a junior at Aguefort Adventuring Academy.
The Fan
[
]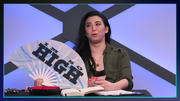 "Yelle"s fan is white with the words IM SO HIGH in all caps on it.
Trivia
[
]
Brennan posted Danielle's character sheet on his Twitter as a reward for reaching the 250 voter registrations milestone during CollegeHumor's Voter Registration Drive.[1] However, as of The Seven, the character sheet is no longer accurate.[2]
Yelle's scent is "all natural baby, like a forest."[3]
After she showers, the mushrooms, moss, & ferns on her outfits immediately kick up another spore cloud, Pig Pen style.[3]
One of the forms she has taken is a corgi-sized tardigrade.
References
[
]