Eel Musk is a technology entrepreneur and owns a major telephone company called "5G".
Featured Episodes
[
]
Description
[
]
Eel Musk is an eel. Rumor has it that the phones he manufactures spies on people collects their personal data.
History
[
]
Eel Musk is first mentioned as Lars Vandenchomp calls for a car to bring themself and Detective Sylvester Cross to Tufting Meadows for the 60th birthday party of Squire William Thornwall Brockhollow. As lars hangs up, Sylvester mentions he wished to get rid of their new telephone, as it spies on them.
As the Sylvan Sleuths discuss the butler, Thomas Gilfoyle, and debate whether or not he actually called the police, Sylvester mentions again that the new technology of telephones is being used by Eel Musk to spy on people. Daisy D'umpstaire mentions the theory that the telephone company, called "5G", was the cause of a recent debilitating illness.[1]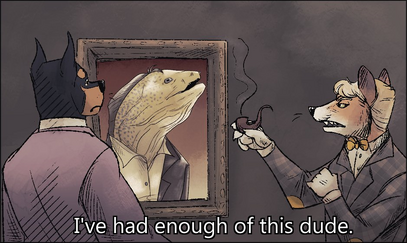 Trivia
[
]
Eel Musk is a reference to Elon Musk, the CEO of Tesla and Space X, though in real life, Elon doesn't own a telephone company.
References
[
]
↑

The illness Rekha is referencing is the COVID-19 virus, as during the pandemic, it was a widespread superstition that the virus was caused by satellite, radio waves, and cell networks, referred to as "5G", which simply stands for the fifth generation technology standard for broadband cellular networks. It is unclear how this illness is translated in-universe.