Are you my Dad? Am I my own dad!?

This article is incomplete! You can give someone advantage on their next Investigation check by helping us expand it! This article still needs:


Featured Episodes; History

Seacaster Manor is the home of of the Seacaster family, Bill, Hallariel, and their son, Fabian, as well as their maid, Cathilda.
Featured Episodes
[
]
Description
[
]
It is located near the Marigold River in Downtown Elmville amongst various other manors and mansions. The Manor is a colossal, red and gold gilded Man O'War, Bill Seacaster's old pirate ship 'the Hangman', that was dragged out of the river and onto land, then turned into a mansion.
It is surrounded in hedgerows, topiary, and fountains, and a gold archway leads out to a clay patio that Fabian and his father often train on. There are gravel driveways at the compound.
Within the house there are barrels. When Bill Seacaster was alive, he paid pirates to stay in the barrels so they can pop out and sing when there is a musical scene.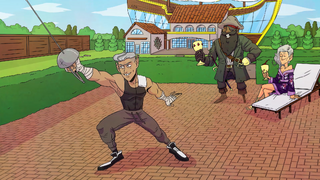 History
[
]
Seacaster Manor plays an important role in multiple occasions. The Bad Kids train with Bill Seacaster at the Manor after their fight at the Black Pit. The Bad Kids also use Fabian's computer to search for information about KVX Bank. Seacaster Manor is also one of the locations that the Harvestmen attack before the Prom.