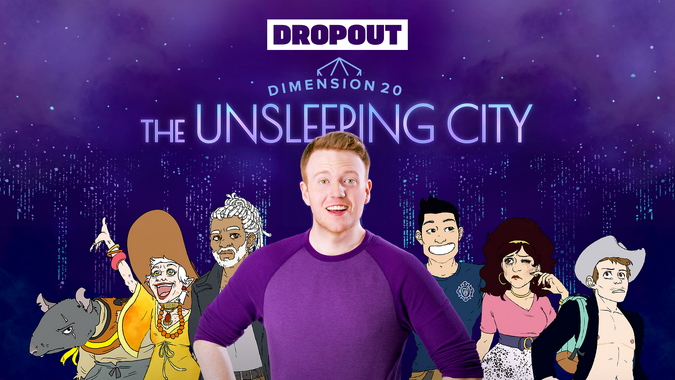 The Unsleeping City is the third season of Dropout's Dimension 20 and its second Intrepid Heroes. It is set in a magical version of New York City and has players starting at 3rd level with archetypes.
The Unsleeping City is available to watch through CollegeHumor's streaming service Dropout. On September 4th, 2020, it was announced that the full season will be uploaded to Dimension 20's YouTube channel with new episodes posted every Friday at 3 PM EST starting on September 11th, 2020. The episodes will also be released simultaneously as audio-only podcasts through Apple Podcasts, Spotify, and Stitcher.[2]
Helpful links:
★ PC Playlist shared by Brennan on Instagram, compiled by Kestrel ★
Characters
[
]
Major NPCs
[
]
Supporting NPCs
[
]
Minor NPCs
Antagonists
[
]
Minor Antagonists
[
]
Items
[
]
Locations
[
]
Trailer
[
]
Trivia
[
]
Despite being the third season, the Unsleeping City was actually filmed before season two, Escape from the Bloodkeep.
Part of the inspiration for this season was Neil Gaiman's book Neverwhere. Brennan enjoyed the amount of inside references that only a Londoner would understand, which he felt made the book more authentic.[3]
References
[
]