Are you my Dad? Am I my own dad!?

This article is incomplete! You can give someone advantage on their next Investigation check by helping us expand it! This article still needs:

"This is honestly so stupid, but did you get my playlist?" ― Zelda Donovan to Gorgug Thistlespring
Zelda Donovan is a shy student at Aguefort Adventuring Academy, whose locker is next to Gorgug's.
Featured Episodes
[
]
Description
[
]
Zelda has horns on her head and goat legs. Zelda is described as being very artsy based on her profile photo being her eye and some hair. She enjoys listening to various types of punk, emo, screamo and metal music
Zelda's parents want her to be more outgoing and experience life. They scold her when she comes home too early. Her entire family worships the god of wine and ecstasy (both the emotion and the drug).
Zelda and Gorgug have had a few awkward conversations where, "it's like Michael Cera talking to Michael Cera" as described by Kristen Applebees (Episode 7: Graveyard of Good and Evil). At the end of Season 1, Gorgug Thistlespring and her seem to be dating.
Zelda is one of the seven maidens who was trapped in a palimpsest and was later chained to the mouth of Kalvaxus's lair. The day she got trapped in the palimpsest, the Hangman and her family fought against enemies to keep her safe. She is later freed by Sandra Lynn Faeth and gets to kill Kalvaxus.
Zelda is a follower of the god of wine and ecstasy. She is training to be a battle dancer. She has to train with Porter alone because her rages are too powerful for the regular barbarian classes. Eventually, she trains with Gorgug and Ragh.
Live Shows
[
]
Zelda is waiting at the end of the driveway to the Thistlespring Tree to walk to school with Gorgug, like they do every morning, and she lets Gorgug listen to her heavy metal on the way. She tells Gorgug about her free period, and asks if they're doing wrestling and throws in his Barbarian class that day, which she thinks is hot. Gorgug asks her to come by if she likes, and Zelda says that no matter how many times Gorgug reminds her that she's not his dad, she doesn't think he's weird.
Zelda is celebrating her 16th birthday with a religious event called a "rager" in which she gets possessed by the God of wine and ecstasy and lets out excess rage so it doesn't corrode away at her. She invites The Bad Kids and even asks Fig, Kristen and Adaine to help protect her during the ritual along with the rest of the Maidens. She also invites Ficus to overview the rager being the person to start the ritual itself. At the rager itself her party is going great and she eventually starts the ritual with The Bad Kids, the Maidens and Ficus protecting her while the god of wine and ecstasy possesses her. She succumbs to rage and finishes the ritual after The Bad Kids and Ficus defend her from The Party Fouls. After the end of the ritual she relaxes with Gorgug and the rest of the Bad Kids eating some of Gorgug's cookie cake.
Zelda and the Maidens go to the Red Waste while Gorgug and the Bad Kids go on their quest to retrieve the crown of the Nightmare King. Zelda asks Gorgug to bring a generator with him so that they can keep in contact, as crystal technology doesn't work outside of Solace. In the chaos after Riz and Fig go missing, Gorgug forgets and leaves without saying goodbye.
Gorgug tries to make amends over the next couple of days and asks everyone he can if they know how to build a cell tower. Finally, after taking a level in artificing, Gorgug is able to upgrade his phone with the Gnomish Tinkerers of Arborly and reach Zelda again. She's very grateful.
In the Forest of the Nightmare King, Gorgug gets a text from Skrank, 'so, we cool about Zelda?' who implies that Zelda may have cheated with him while they were out of touch. Though Gorgug initially believed this was another illusion of the Forest, the text was actually quite real as Zelda later reveals. However, Zelda unequivocally says that Skrank hit on her and made up their relationship. When Gorgug says that he might have to just kick Skrank's ass, Zelda is a little turned on and encourages it a bit.
At the start of The Seven, she is a junior at Aguefort Adventuring Academy.
The Fan
[
]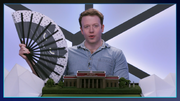 Zelda's fan is white with a black design of a cat on it.
Trivia
[
]
References
[
]